Details
33" Copper Handmade Kitchen Farmhouse Round Apron Single Well Plain Sink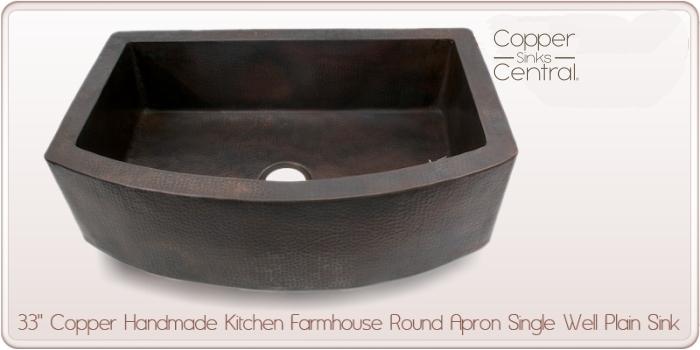 33 x 22 x 9" Copper Handmade Kitchen Farmhouse Round Apron Single Well Plain Sink with Dark Finish by coppersinkscentral.com. This beautiful copper sink, is part of coppersinkscentral.com unique and original collection of handmade and hand hammered kitchen, bath and bar copper sinks. Copper sinks are a beautiful and natural product for your kitchen, bath or bar. Copper is an endlessly recyclable material that will give you natural beautiful finishes for your bathroom, kitchen and bar.
Copper is also a healthy product due to its natural antibacterial and antimicrobial characteristics. And although your sink will last forever, it will give you great value whenever you want to dispose of it, as it is a very expensive commodity. Copper sinks are a beautiful, healthy and environmentaly safe option for your home.
This copper sink design, quality and style is extraordinary. Our copper sinks are guaranteed to be of the highest quality. Great for home & commercial use!
Brand new in box ready to ship
Exclusive and unique design
Solid copper construction
Certified copper purity of 99.2% pure copper, no lead
Copper is naturally antibacterial
Handmade and hand hammered copper work of art
Made with recycled materials
Lowest price in the market for a same quality product
Best quality construction in the market
Made in Mexico covering all environmental regulations
Ships from our warehouse in Laredo, TX,
where it has been professionaly packed and inspected
Please note: As the size and the feature of both drain and sink vary, drain is not included. Customers need to select the right drain according to their sink size. We ship our products from Laredo, TX. However, you may receive it directly from the factory in Mexico due to stock fluctuations and also if custom finishes or custom construction is needed.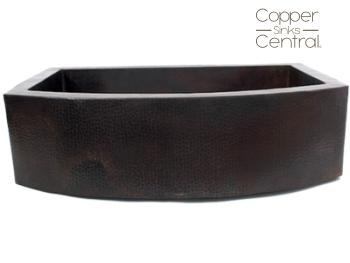 Specifications
Model:
CS-KIT-FAH-ARD-SGL-PLA
Quantity:
1
Weight:
41.88 pounds
Gauge:
16
Dimensions:
33 x 22 x 9"
Material:
Copper
Purity:
99.2% copper, 0.8% zinc
Drain size:
3.5"
Lip:
2" Flat Lip
Packing Dimensions:
37.5 x 26.5 x 14"
Country of origin:
Mexico
Shipping:
FREE
Ships from:
Laredo, TX
Warranty:
Lifetime warranty against manufacturer's defects
Returns:
30 days returns for defective product, no restocking fee.

DRAIN NOT INCLUDED
**Measurements may vary slightly due to the handmade nature of our products
Our standard copper sink finish is Dark. We offer different finishes shown below to best suit your needs.
Please keep in mind that if you select one of the custom finishes your order will take one extra week. The extra lead time is needed for production and quality control.
Clear

Sanded dark

Dark

Matte

Shiny